2022-23 MUSF Mustang Fund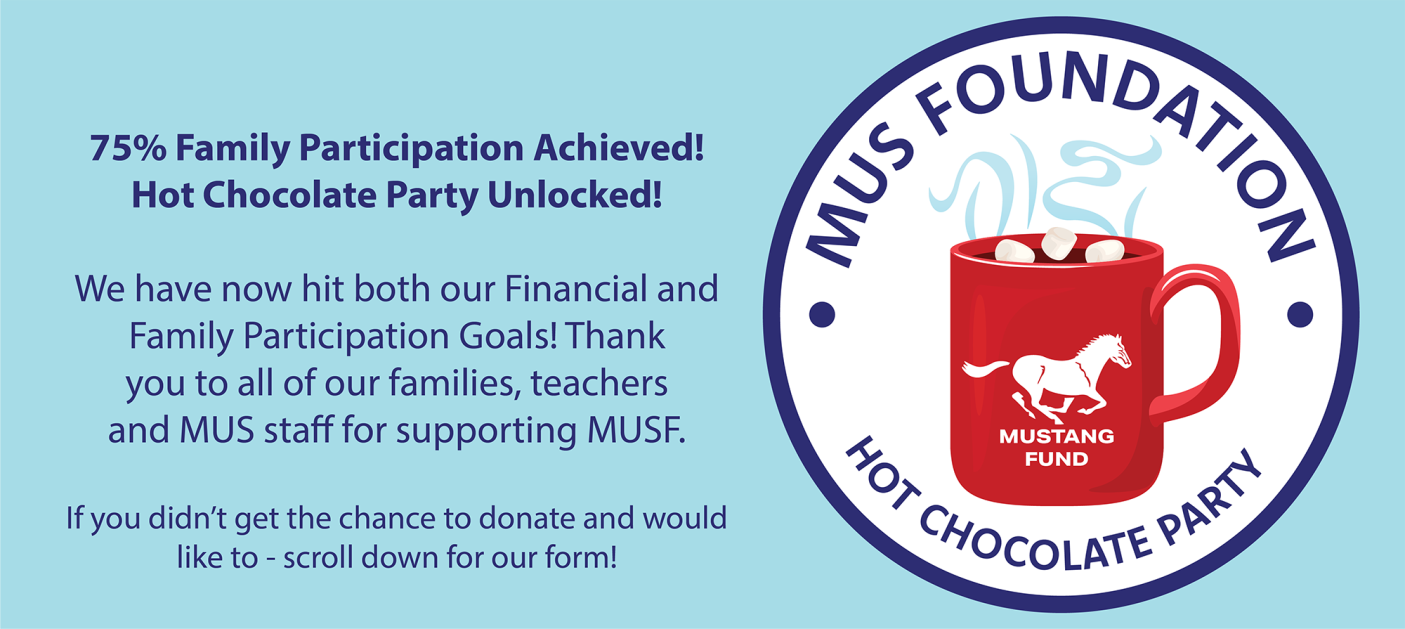 The Mustang Fund is the Montecito Union School Foundation's (MUSF) annual capital campaign. At the beginning of each school year, the MUSF Board and school administration work together to determine where additional funds and resources are needed and ask everyone in our school community to contribute with a tax-deductible gift. The Mustang Fund is a critical component of MUSF's fundraising efforts and makes up almost half of the funds that we raise annually.
THE *NUMBERS - UPDATED 10:10PM on JANUARY 27, 2023
* While the campaign has officially ended, you can still give if you missed it. Any new donations will be added to our totals including participation totals.
THANK YOU to all of our teachers, school staff and families that gave this year. Thank you to all of the volunteers that helped get the word out about the campaign including teachers, MUS Foundation Board Members and our Mustang Fund Committee made up of parents at the school.
$150,284.05 raised which is 107.3% of goal! Family Participation is 79.2% which exceeds our 75% goal! (190 of 240 families have participated!).
Kinder / TK - 48/60 (80%)
We finished at 80% family participation! We needed 12 more to hit 100%.

1st - 30/31 (97%)
We reached 97% for first grade family participation! This is the highest grade participation for this year's campaign. We needed 1 more to hit 100%.

2nd - 47/51 (92.2%)
We finished at 92.2% for second grade family participation! We needed 4 more to hit 100%.

3rd - 37/50 (74%)
We finished at 74% family participation! We needed 13 more to hit 100%.

4th - 43/54 (80%)
We finished at 80% family participation! We needed 11 more to hit 100%.

5th - 29/42 (69%)
We finished at 69% family participation! We needed 13 more to hit 100%.

6th - 40/53 (76%)
We finished at 74% family participation! We needed 14 more to hit 100%.

This year's contributions will help fund the planning and development of a kitchen at MUS. With your help, we can start working to design a kitchen for MUS. We plan to work with architects, experts, parents, and staff members to create a kitchen that will bring the school breakfasts and lunches up to the highest standards anywhere! You have the opportunity to help build early momentum for our Annual Giving campaign.
OUR ASK - $750 PER CHILD
Annual Giving ensures that MUS continues to be a fantastic school for our children. We hope that you will consider joining many MUS parents with your gift of any size during this campaign. Our goal is to average $750 per child and 100% participation. We believe our goal is attainable and we ask that you give what your family can. Whether you are in a position to be generous this year or can only give a little - every dollar and every donation matters and we are grateful for your support.
Both the Superintendent's Report and the President's Report attest to the superior results of previous campaigns, experienced daily by our children. We rely on your participation to continue to exceed our goals and deliver on the promise of our children's future.
PARTICIPATION MATTERS
Some of our peer schools regularly achieve 100% participation for their annual campaigns. While our teachers and MUSF Board achieve full participation year after year, historically that has not been the case for MUS as a whole. We intend to remedy this deficit in participation. If there is a reason you have chosen not to give or you have questions, please don't hesitate to reach out to myself (Ben Hyatt) or any of the Mustang Fund committee members listed below.
WAYS TO DONATE
The easiest way to donate is to simply scroll down, decide how much you can give and enter your credit or debit card details.
MONTHLY COMMITMENTS
If you prefer to spread your donation over more than one month, we can accommodate your request. Just email benhyatt@musfoundation.com to start the process. We can set up automatic credit card withdrawels - any amount, any number of months.
PAY BY CHECK
You can also pay by check by making your check payable to the Montecito Union School Foundation and dropping it off at school. We accept stock transfers and soon will offer ACH transfer from your checking account.
* Please include your child's grade and teacher so we can update our participation numbers accordingly and credit your children's grade.
If you would like to pay by check you can also mail it to:
Montecito Union School Foundation
PO Box 5561
Santa Barbara, CA 93150
---
MORE ON GIVING
Do you have to give $750 per child? No. You can give more. You can give less. Every dollar donated will ensure we hit what is another ambitious goal. Every family that donates gets us closer to our 100% participation goal so please give what you can!
All of it helps and all of it counts towards our participation numbers for each grade and the school.
---
$5000+ - Scholars Circle Dinner & Wine Pairing with our School Chef Koji
We are trying something new this year. Those that give $5000 or more will receive an invitation for 2 to a donor appreciation dinner with Chef Koji Nomura and a local winemaker to learn more about the enhanced food program for our children and the upcoming kitchen design and development. Multi-course dinner with wine pairing to be served under the stars at a private Montecito estate.
---