Una Notte in Toscana - MUSF Gala 2023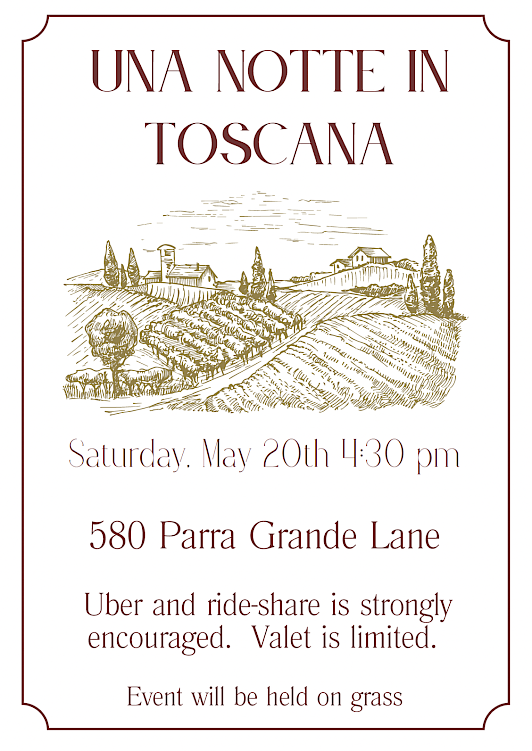 Saturday is almost here! We are so excited to gather with all of you, in the spirit of celebrating and supporting our wonderful school. Prior to the event, it is vital that you PRE-REGISTER ONLINE to make our check in and check out process seamless:
1. Log on to https://www.musfoundation.com/
2. Click into "My Account" in the top right corner
3. Sign in, or if you do not have an account, register for one
4. Once logged in, click the blue button "Payment Methods"
5. Add in the credit card info for the card you want on file for the Gala
The event will be held at the beautiful home of the Lando Family, 580 Parra Grande Lane. VALET AND PARKING IS EXTREMELY LIMITED, SO PLEASE UBER/LYFT AND RIDE SHARE! EVENT STARTS AT 4:30pm and will be held on the grass so please plan footwear accordingly.
We cannot wait to see you all and gather in celebration of Montecito Union School!
Ciao!
Cate Stoll & Amanda Lee
Your 2023 Gala Co-Chairs
---
Each year we come together to raise funds to enrich the educational experience at MUS in partnership with the school. The Montecito Union School Foundation (MUSF) supports the school district in excess of $350,000 annually. Without the monetary support of MUSF, and thus your support, our children would not have the benefit of some very special recurring programs including: Art at Lunch, Running Club, Poetry- in-Residence, Sowah, the school play, STEAM Nights, large Nature Lab grants and so much more. In addition we provide our teachers with funds for classroom improvement and materials, help our library replace and add books, the list goes on.
MUSF could not do it without you!
More details will be released shortly.
Corporate & Family Sponsorships, Auction Item Donations
If you are interested in sponsoring the event, we have a number of options for both corporate and family sponsorships. And if you have an item to donate to our online or live auctions, please let us know by filling out our Auction Item Form - either online or via PDF.
Individual tickets are now available for purchase
Tickets are limited and presale only. No tickets will be available at the event. Click to purchase your tickets.